Hi all!
I am still pretty new to the suitecrm framework…
I am trying to work out a little bit of a problem that I have infront of me.
I am currently using Twilio for my incoming phonecalls / sms messages and through this interface I can implement all kinds of logic based on telephony apis and do all kind of processes during a phone calls life cycle… I have the same phone # ringing at the same time in different offices. So the ability to handle a phone call is in my hands…All cool. fun stuff really.
What I am working on is the ability so when a live call comes in a few things take place…
A: I do a API call on suitecrm to determine if the phone number has been used in the system
B: if # exists then check and pull of latest "Quotes / invoices" and create a verbose view of these details
C: if user is logged into suitecrm then automatically pull up the account that is in the system / quote / invoice and "popup" a window for the user that is logged in .
and of course if no user is logged in, then just do silent backend functions.
D: SMS details of caller via: Twilio from returned data from B
Lots of tricky stuff here… But the biggest challenge I think I have infront of me is if suitecrm has a feature that allows the API to pop up windows for users?
Is this something that someone has done in the past… realtime automated popups showing account data… hmm

thinking that I will need to write a little bit of ui logic on the suitecrm side of things to listen for remote calls to pull up a window…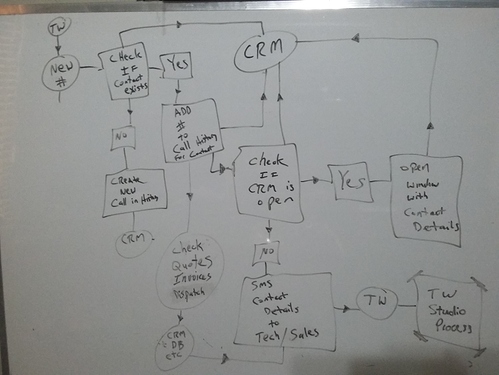 little bit of flow…