Hello!
I just attempted to import a email ("Bulk action" in e-mail module), and until the latest update it has worked flawlessly, but now it fails with the error message:

How the error message is generated:
1.) Select "E-mails" module in the meny and go there.
2.) Selected the message by ticking the box of the chosen e-mail in inbox.
3.) Click "Bulk action"
4.) Chose from the dropdown list "Import"
5.) Error message is delivered in the browser.
Current version of SuiteCRM: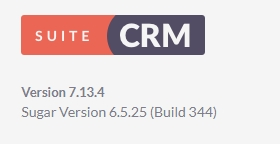 A quick peek in Devtools will generate this information:


Is the required files missing after latest update to version 7.13.4 from 7.12.4 maybe as Devtools tells you that it has received 500 internal error and also a 404 error?
Anyone here that have an idea why this occurs in this version and how to fix this?
Thanks a bunch in advance.
Kind regards