I need your help with users mailboxes
I can`t send emails from each user email address.
I read a lot of articles on the forum also I checked in Sugar CRM forum but I can`t find the solution to resolve my issue.
I am using Microsoft exchange mailboxes
I can send email only with the email which is in Global Email Settings.
I configured users email addresses but does not work.
Also in Microsoft exchange, I created connector and I add suite CRM server IP address but the problem does not resolve. Also, because in admin email settings I have publicttcm@ttcm.com email address I gave access to my users to send behalf on this mailbox from Microsoft Exchange Admin panel but again problem does not resolve.
I log in to the user portal and I created from user settings mail account when I test the settings I received the email When I tried to send an email to lead which is assigned under my user mail does not send.
Also, mailboxes created in Inbound Email and Outbound Email.
in Global Email Settings, I have publicttcm@traders-trust.com. I did a test and I received the email without any problem. Also, when I have this mailbox for all users to sending emails working without any issues.
Error Message :
Wed May 23 15:38:50 2018 [17250][7a70e3bf-7aca-57c7-9b85-5b052de2e3d5][FATAL] SugarPHPMailer encountered an error: SMTP Error: Could not authenticate.
Admin Email Settings :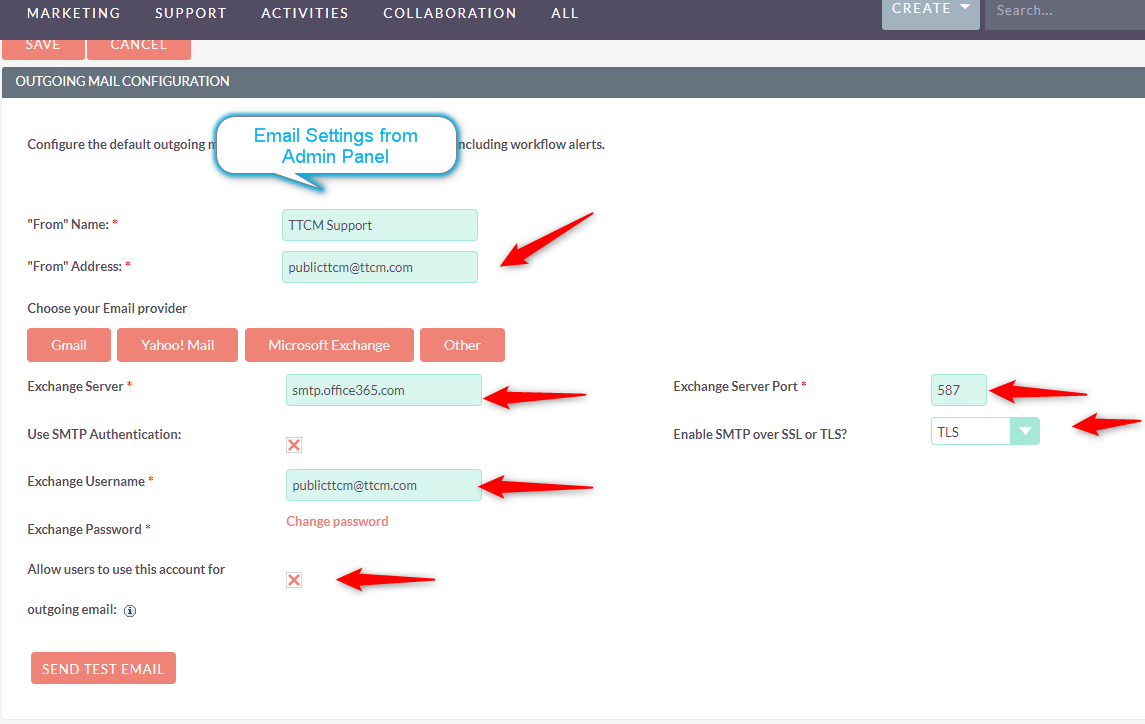 User Email Settings
User Error Message

Outbound Email Account (is user mailbox)

Error message