SuiteCRM 8.2.3
WAMP 3.3 environment
Apache 2.4.54
MySQL 8.0.31
PHP 7.4.33
All running on Windows.
Our system runs fine in the above config. No failures, all functionality works and no real issues.
Due to the age of the PHP version and its impending lack of support, we decided to upgrade to v8 and test before applying this.
So we set up a virtual host using PHP 8.0.26. The php.ini file was checked to be in line with the 7.4.3 version, display errors and startup display errors both off, error reporting set to
error_reporting = E_ALL & ~E_NOTICE & ~E_STRICT & ~E_DEPRECATED
But after logging in, the dashboard lists a host of deprecated errors as per the screenshot. When we first upgraded to version 8.2.3 we went up to version 8 of PHP and I now recall that we did a downgrade to 7.4.3 to fix these very problems.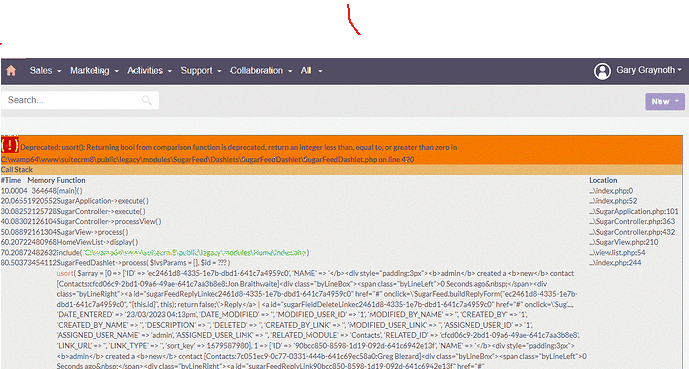 We have also tried later versions of PHP up to 8.2 and the issues become worse with server side errors.
Can anyone throw any light on this. so that we can move up to a current version level of PHP. I am sure that it is probably something simple but I can't find anything in the forum that is the same.
Many thanks for any help, in advance.