Hi to all.
I'm currently experiencing an issue with the currency field in the List View of the Opportunities module.
I want the list view to show the Opportunity amount in the original (not converted) currency.
I have added the "Opportunity amount" field in Studio > Opportunities > Layouts > List View (it was hidden) and now that value can be added as a column on the list view. However it doesnt show the correct currency symbol of the opportunity amount, instead it shows the default currency of the account (same currency symbol as the converted amount).
Note: in the detail view, the correct currency is shown.
Detail view:


List view: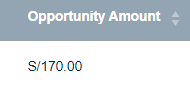 I'd appreciate any help on solving this issue. Thanks in advance.