Hello,
I've installed several SuiteCRM instances since years on VPS and shared hosting and it was always acceptably quick.
On one new shared hosting environment I'm running a small and fast website (Google Pagespeed 98 on mobile) and SuiteCRM 8.3 (new installation with 2 leads manually created).
One page load takes around 83 seconds
PHP 8.0
MySQL 8.0
opcache.enable true
max_memory_limit 512M
no 404 / 403, everything loads nicely - just very slow
suitecrm.log is almost empty
Wed Jun 28 06:56:03 2023 [2477233][1][FATAL] Mysqli_query failed.
Wed Jun 28 06:56:03 2023 [2477233][1][FATAL]  Query Failed: SELECT favorites.*
                  FROM favorites
                  JOIN config ON ( config.id = favorites.parent_id )
                  WHERE favorites.assigned_user_id = '1'
                    AND favorites.parent_type = 'Administration'
                    AND favorites.deleted = 0
                    AND config.deleted = 0
                  ORDER BY favorites.date_entered DESC LIMIT 0,10: MySQL error 1054: Unknown column 'config.deleted' in 'where clause'


Could that be related to a very slow system?
I've moved the DB to my VPS (with another SuiteCRM running swiftly and connected to that one - but the speed is the same. VPS with 10GB RAM, very little traffic, MariaDB - and still the same issue.
On the shared host, there is a
Apache 2.4
NGINX reverse proxy
Caching enabled / disabled for testing purposes (all without changes / improvements)
The shared hosting company was quite helpful on the phone, but couldn't see an issue as well.
In the browser, it seems like, most things load fast BUT the graphql endpoint: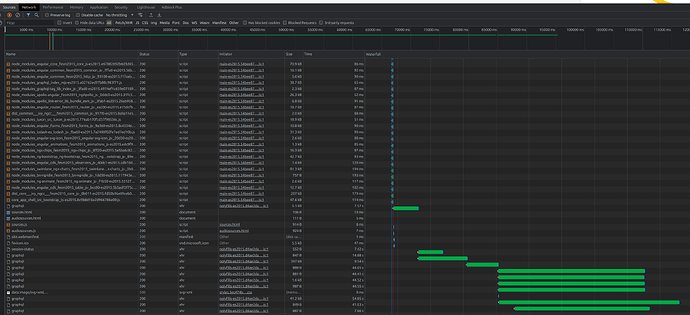 Any idea, what that could be?