Dear friends,
I have problem to install SuiteCRM 8.2.2
Please help me if you guy also faced the problem before or if you have any idea to fix.
Thank you very much!
It's the first time I install SuiteCRM (8.2.2) for researching and learn how to use.
At the install screen, I input suitecrm instance/url, db_username, db_password, db_name, db_host, admin name, admin password then click PROCEED button. it returned empty error popup.
I installed SuiteCRM on my localhost, my web hosting and docker with the same problem.
(PHP: 7.4, MySQL: 5.7.29)
I tried to get more details about the error with dev env and I have the details below: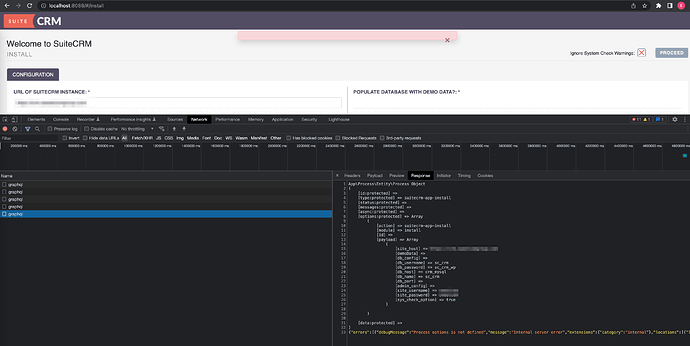 {
    "errors": [{
        "debugMessage": "Process options is not defined",
        "message": "Internal server error",
        "extensions": {
            "category": "internal"
        },
        "locations": [{
            "line": 2,
            "column": 3
        }],
        "path": ["createProcess"],
        "trace": [{
            "file": "\/var\/www\/html\/core\/backend\/Process\/DataPersister\/ProcessDataPersister.php",
            "line": 81,
            "call": "App\\Install\\Service\\Installation\\InstallActionHandler::validate()"
        }, {
            "file": "\/var\/www\/html\/vendor\/api-platform\/core\/src\/Core\/DataPersister\/ChainDataPersister.php",
            "line": 59,
            "call": "App\\Process\\DataPersister\\ProcessDataPersister::persist()"
        }, {
            "file": "\/var\/www\/html\/vendor\/api-platform\/core\/src\/Core\/Bridge\/Symfony\/Bundle\/DataPersister\/TraceableChainDataPersister.php",
            "line": 58,
            "call": "ApiPlatform\\Core\\DataPersister\\ChainDataPersister::persist()"
        }, {
            "file": "\/var\/www\/html\/vendor\/api-platform\/core\/src\/Core\/GraphQl\/Resolver\/Stage\/WriteStage.php",
            "line": 59,
            "call": "ApiPlatform\\Core\\Bridge\\Symfony\\Bundle\\DataPersister\\TraceableChainDataPersister::persist()"
        }, {
            "file": "\/var\/www\/html\/vendor\/api-platform\/core\/src\/Core\/GraphQl\/Resolver\/Factory\/ItemMutationResolverFactory.php",
            "line": 122,
            "call": "ApiPlatform\\Core\\GraphQl\\Resolver\\Stage\\WriteStage::__invoke()"
        }, {
            "file": "\/var\/www\/html\/vendor\/webonyx\/graphql-php\/src\/Executor\/ReferenceExecutor.php",
            "line": 632,
            "call": "ApiPlatform\\Core\\GraphQl\\Resolver\\Factory\\ItemMutationResolverFactory::ApiPlatform\\Core\\GraphQl\\Resolver\\Factory\\{closure}()"
        }, {
            "file": "\/var\/www\/html\/vendor\/webonyx\/graphql-php\/src\/Executor\/ReferenceExecutor.php",
            "line": 555,
            "call": "GraphQL\\Executor\\ReferenceExecutor::resolveOrError()"
        }, {
            "file": "\/var\/www\/html\/vendor\/webonyx\/graphql-php\/src\/Executor\/ReferenceExecutor.php",
            "line": 478,
            "call": "GraphQL\\Executor\\ReferenceExecutor::resolveField()"
        }, {
            "file": "\/var\/www\/html\/vendor\/webonyx\/graphql-php\/src\/Executor\/ReferenceExecutor.php",
            "line": 921,
            "call": "GraphQL\\Executor\\ReferenceExecutor::GraphQL\\Executor\\{closure}()"
        }, {
            "call": "GraphQL\\Executor\\ReferenceExecutor::GraphQL\\Executor\\{closure}()"
        }, {
            "file": "\/var\/www\/html\/vendor\/webonyx\/graphql-php\/src\/Executor\/ReferenceExecutor.php",
            "line": 923,
            "function": "array_reduce()"
        }, {
            "file": "\/var\/www\/html\/vendor\/webonyx\/graphql-php\/src\/Executor\/ReferenceExecutor.php",
            "line": 494,
            "call": "GraphQL\\Executor\\ReferenceExecutor::promiseReduce()"
        }, {
            "file": "\/var\/www\/html\/vendor\/webonyx\/graphql-php\/src\/Executor\/ReferenceExecutor.php",
            "line": 256,
            "call": "GraphQL\\Executor\\ReferenceExecutor::executeFieldsSerially()"
        }, {
            "file": "\/var\/www\/html\/vendor\/webonyx\/graphql-php\/src\/Executor\/ReferenceExecutor.php",
            "line": 208,
            "call": "GraphQL\\Executor\\ReferenceExecutor::executeOperation()"
        }, {
            "file": "\/var\/www\/html\/vendor\/webonyx\/graphql-php\/src\/Executor\/Executor.php",
            "line": 155,
            "call": "GraphQL\\Executor\\ReferenceExecutor::doExecute()"
        }, {
            "file": "\/var\/www\/html\/vendor\/webonyx\/graphql-php\/src\/GraphQL.php",
            "line": 158,
            "call": "GraphQL\\Executor\\Executor::promiseToExecute()"
        }, {
            "file": "\/var\/www\/html\/vendor\/webonyx\/graphql-php\/src\/GraphQL.php",
            "line": 90,
            "call": "GraphQL\\GraphQL::promiseToExecute()"
        }, {
            "file": "\/var\/www\/html\/vendor\/api-platform\/core\/src\/GraphQl\/Executor.php",
            "line": 32,
            "call": "GraphQL\\GraphQL::executeQuery()"
        }, {
            "file": "\/var\/www\/html\/vendor\/api-platform\/core\/src\/GraphQl\/Action\/EntrypointAction.php",
            "line": 86,
            "call": "ApiPlatform\\GraphQl\\Executor::executeQuery()"
        }, {
            "file": "\/var\/www\/html\/vendor\/symfony\/http-kernel\/HttpKernel.php",
            "line": 157,
            "call": "ApiPlatform\\GraphQl\\Action\\EntrypointAction::__invoke()"
        }, {
            "file": "\/var\/www\/html\/vendor\/symfony\/http-kernel\/HttpKernel.php",
            "line": 79,
            "call": "Symfony\\Component\\HttpKernel\\HttpKernel::handleRaw()"
        }, {
            "file": "\/var\/www\/html\/vendor\/symfony\/http-kernel\/Kernel.php",
            "line": 195,
            "call": "Symfony\\Component\\HttpKernel\\HttpKernel::handle()"
        }, {
            "file": "\/var\/www\/html\/public\/index.php",
            "line": 62,
            "call": "Symfony\\Component\\HttpKernel\\Kernel::handle()"
        }]
    }],
    "data": {
        "createProcess": null
    }
}