how to update fields in existing leads in bulk in suitecrm 7.7.8
In list view you will have option called mass update from where you can updates values by selecting multiple records.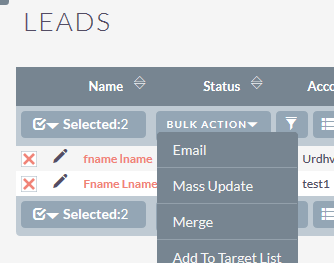 yes but in mass update not getting all fields and i need to update data of different leads with different values
Which type of fields do you want to have in massupdate?
Here is some hint about how to add fields in mass update

This might help you
I have imported a list in crm and now i need to update address to all the leads in that list and for that i need to import list again but how i can update all the leads with address
May be you can try.
Export Leads that are imported.
Keep ID in the Exported file and add your column into the CSV file and Reimport with Update option in import.
now all leads are mixed so how to find the leads of a particular list
I usually add a field (a custom one, or I use an existing field that I don't need for any other purpose) that is filled with a different value in each import.
You are right, it is quite useful to have a way to select all records from a specific import so you can do further work on them.