Hello
I set up 23 workflows that are triggered during lead conversion.
All workflows individually works well.
BUT they work in a very strange way when all of them are active.
By iterating over combinations of active-inactive each of them, I looked at which workflows are causing the problem.
And I found that without two workflow everything works well.
My all workflows (the first two is a problem)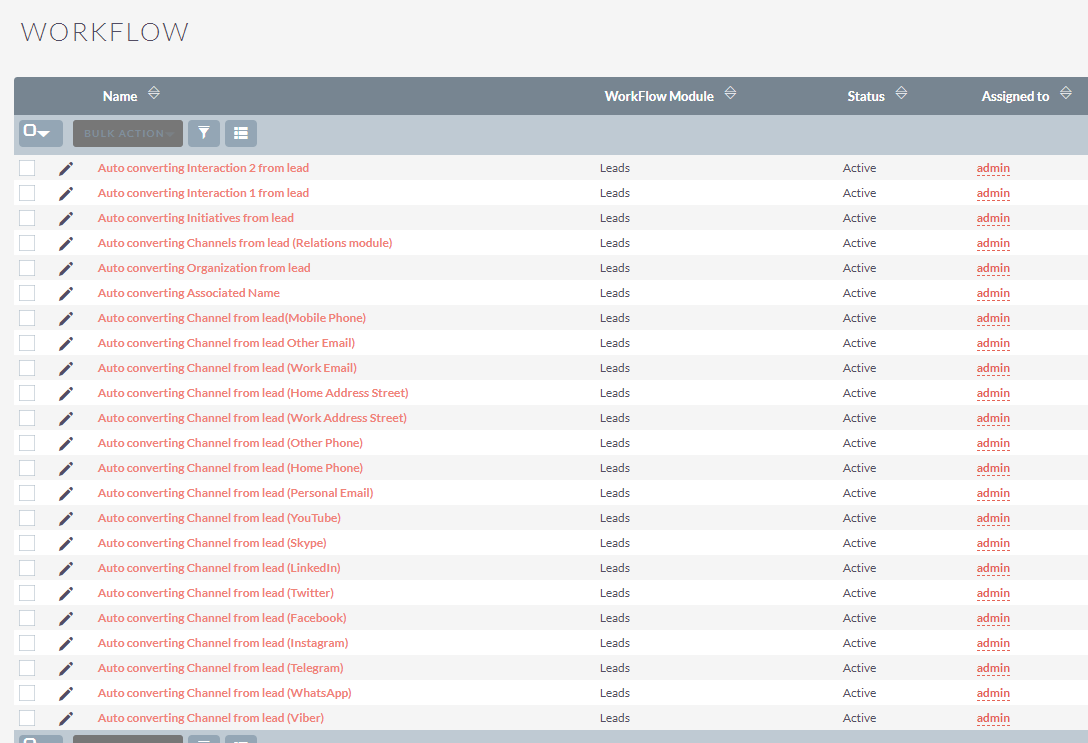 If I disable (inactive) the first two workflows then everything works well
But if All workflows are active then it seems like losing some data
for example,
right after converted lead in this screen


if I click on a new created People recorder I will see Error retrieving record


and if I go to the module and find this record I can see it and see that some data was lost
Please see a screenshot here is a separate module where most of workflow should create a new record(all records created well ) and set there People field (it's relate) so as you can see the last part was done ~ about 50%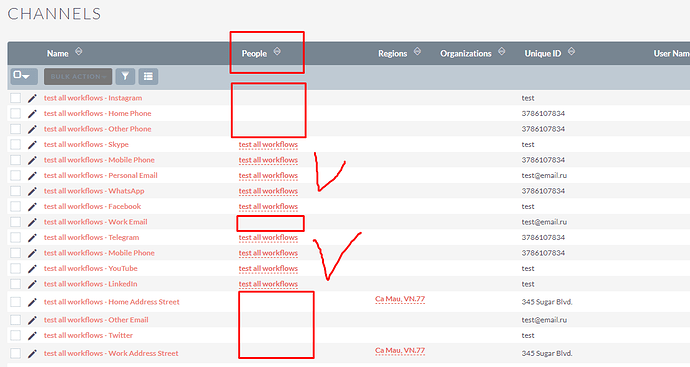 My logs a lot of error and I don't understand why it' so much
It's srange behavior because as I mentioned above if I disable the first two workflows (I manually find without which workflow everything works fine ) then I get ALL record working well
BUT my log looks the same except the last lines about Exception in Controller: Error retrieving record. This record may be deleted or you may not be authorized to view it.
Also another one thing - if I start the two problem workflow separately then it work fine
So if I can't fix it could I put some kind of delay on individual workflows? Let's say somehow change the code so that two of my problem processes are called 2 seconds after the conversion of the lead?
I have Suitecrm 7.11.18 / PHP 7.4 / nginx…
Thu Apr 15 17:34:55 2021 [642416][1][ERROR] Unable to load related bean by id
Thu Apr 15 17:34:55 2021 [642416][1][ERROR] Unable to load related bean by id
Thu Apr 15 17:34:55 2021 [642416][1][FATAL] SugarPHPMailer encountered an error: Invalid address:  (to): 
Thu Apr 15 17:34:55 2021 [642416][1][ERROR] Given parameter should contains index "copy_email_addresses"
Thu Apr 15 17:34:55 2021 [642416][1][ERROR] Email address copy error occured, bean was: Leads
Thu Apr 15 17:34:55 2021 [642416][1][ERROR] Unable to load related bean by id
Thu Apr 15 17:34:55 2021 [642416][1][FATAL] SugarPHPMailer encountered an error: Invalid address:  (to): 
Thu Apr 15 17:34:55 2021 [642416][1][ERROR] Given parameter should contains index "copy_email_addresses"
Thu Apr 15 17:34:55 2021 [642416][1][ERROR] Email address copy error occured, bean was: Leads
Thu Apr 15 17:34:55 2021 [642416][1][ERROR] Unable to load related bean by id
Thu Apr 15 17:34:55 2021 [642416][1][FATAL] SugarPHPMailer encountered an error: Invalid address:  (to): 
Thu Apr 15 17:34:55 2021 [642416][1][ERROR] Given parameter should contains index "copy_email_addresses"
Thu Apr 15 17:34:55 2021 [642416][1][ERROR] Email address copy error occured, bean was: Leads
Thu Apr 15 17:34:55 2021 [642416][1][ERROR] Unable to load related bean by id
Thu Apr 15 17:34:55 2021 [642416][1][FATAL] SugarPHPMailer encountered an error: Invalid address:  (to): 
Thu Apr 15 17:34:55 2021 [642416][1][ERROR] Given parameter should contains index "copy_email_addresses"
Thu Apr 15 17:34:55 2021 [642416][1][ERROR] Email address copy error occured, bean was: Leads
Thu Apr 15 17:34:55 2021 [642416][1][ERROR] Unable to load related bean by id
Thu Apr 15 17:34:55 2021 [642416][1][ERROR] Given parameter should contains index "copy_email_addresses"
Thu Apr 15 17:34:55 2021 [642416][1][ERROR] Email address copy error occured, bean was: Leads
Thu Apr 15 17:34:55 2021 [642416][1][ERROR] Unable to load related bean by id
Thu Apr 15 17:34:55 2021 [642416][1][FATAL] SugarPHPMailer encountered an error: Invalid address:  (to): 
Thu Apr 15 17:34:55 2021 [642416][1][ERROR] Given parameter should contains index "copy_email_addresses"
Thu Apr 15 17:34:55 2021 [642416][1][ERROR] Email address copy error occured, bean was: Leads
Thu Apr 15 17:34:55 2021 [642416][1][ERROR] Unable to load related bean by id
Thu Apr 15 17:34:55 2021 [642416][1][FATAL] SugarPHPMailer encountered an error: Invalid address:  (to): 
Thu Apr 15 17:34:55 2021 [642416][1][ERROR] Given parameter should contains index "copy_email_addresses"
Thu Apr 15 17:34:55 2021 [642416][1][ERROR] Email address copy error occured, bean was: Leads
Thu Apr 15 17:34:55 2021 [642416][1][ERROR] Unable to load related bean by id
Thu Apr 15 17:34:55 2021 [642416][1][FATAL] SugarPHPMailer encountered an error: Invalid address:  (to): 
Thu Apr 15 17:34:55 2021 [642416][1][ERROR] Given parameter should contains index "copy_email_addresses"
Thu Apr 15 17:34:55 2021 [642416][1][ERROR] Email address copy error occured, bean was: Leads
Thu Apr 15 17:34:55 2021 [642416][1][ERROR] Unable to load related bean by id
Thu Apr 15 17:34:55 2021 [642416][1][FATAL] SugarPHPMailer encountered an error: Invalid address:  (to): 
Thu Apr 15 17:34:55 2021 [642416][1][ERROR] Given parameter should contains index "copy_email_addresses"
Thu Apr 15 17:34:55 2021 [642416][1][ERROR] Email address copy error occured, bean was: Leads
Thu Apr 15 17:34:55 2021 [642416][1][ERROR] Unable to load related bean by id
Thu Apr 15 17:34:55 2021 [642416][1][FATAL] SugarPHPMailer encountered an error: Invalid address:  (to): 
Thu Apr 15 17:34:55 2021 [642416][1][ERROR] Given parameter should contains index "copy_email_addresses"
Thu Apr 15 17:34:55 2021 [642416][1][ERROR] Email address copy error occured, bean was: Leads
Thu Apr 15 17:34:55 2021 [642416][1][ERROR] Unable to load related bean by id
Thu Apr 15 17:34:55 2021 [642416][1][FATAL] SugarPHPMailer encountered an error: Invalid address:  (to): 
Thu Apr 15 17:34:55 2021 [642416][1][ERROR] Given parameter should contains index "copy_email_addresses"
Thu Apr 15 17:34:55 2021 [642416][1][ERROR] Email address copy error occured, bean was: Leads
Thu Apr 15 17:34:55 2021 [642416][1][ERROR] Unable to load related bean by id
Thu Apr 15 17:34:55 2021 [642416][1][FATAL] SugarPHPMailer encountered an error: Invalid address:  (to): 
Thu Apr 15 17:34:55 2021 [642416][1][ERROR] Given parameter should contains index "copy_email_addresses"
Thu Apr 15 17:34:55 2021 [642416][1][ERROR] Email address copy error occured, bean was: Leads
Thu Apr 15 17:34:55 2021 [642416][1][ERROR] Unable to load related bean by id
Thu Apr 15 17:34:55 2021 [642416][1][FATAL] SugarPHPMailer encountered an error: Invalid address:  (to): 
Thu Apr 15 17:34:55 2021 [642416][1][ERROR] Given parameter should contains index "copy_email_addresses"
Thu Apr 15 17:34:55 2021 [642416][1][ERROR] Email address copy error occured, bean was: Leads
Thu Apr 15 17:34:55 2021 [642416][1][ERROR] Unable to load related bean by id
Thu Apr 15 17:34:55 2021 [642416][1][FATAL] SugarPHPMailer encountered an error: Invalid address:  (to): 
Thu Apr 15 17:34:55 2021 [642416][1][ERROR] Given parameter should contains index "copy_email_addresses"
Thu Apr 15 17:34:55 2021 [642416][1][ERROR] Email address copy error occured, bean was: Leads
Thu Apr 15 17:34:55 2021 [642416][1][ERROR] Unable to load related bean by id
Thu Apr 15 17:34:55 2021 [642416][1][FATAL] SugarPHPMailer encountered an error: Invalid address:  (to): 
Thu Apr 15 17:34:55 2021 [642416][1][ERROR] Unable to load related bean by id
Thu Apr 15 17:34:55 2021 [642416][1][FATAL] SugarPHPMailer encountered an error: Invalid address:  (to): 
Thu Apr 15 17:34:55 2021 [642416][1][ERROR] Given parameter should contains index "copy_email_addresses"
Thu Apr 15 17:34:55 2021 [642416][1][ERROR] Email address copy error occured, bean was: Leads
Thu Apr 15 17:34:55 2021 [642416][1][ERROR] Unable to load related bean by id
Thu Apr 15 17:34:55 2021 [642416][1][FATAL] SugarPHPMailer encountered an error: Invalid address:  (to): 
Thu Apr 15 17:34:55 2021 [642416][1][ERROR] Given parameter should contains index "copy_email_addresses"
Thu Apr 15 17:34:55 2021 [642416][1][ERROR] Email address copy error occured, bean was: Leads
Thu Apr 15 17:34:56 2021 [642416][1][ERROR] Unable to load related bean by id
Thu Apr 15 17:34:56 2021 [642416][1][FATAL] SugarPHPMailer encountered an error: Invalid address:  (to): 
Thu Apr 15 17:34:56 2021 [642416][1][ERROR] Given parameter should contains index "copy_email_addresses"
Thu Apr 15 17:34:56 2021 [642416][1][ERROR] Email address copy error occured, bean was: Leads
Thu Apr 15 17:34:56 2021 [642416][1][ERROR] Unable to load related bean by id
Thu Apr 15 17:34:56 2021 [642416][1][FATAL] SugarPHPMailer encountered an error: Invalid address:  (to): 
Thu Apr 15 17:34:56 2021 [642416][1][ERROR] Given parameter should contains index "copy_email_addresses"
Thu Apr 15 17:34:56 2021 [642416][1][ERROR] Email address copy error occured, bean was: Leads
Thu Apr 15 17:34:56 2021 [642416][1][ERROR] Unable to load related bean by id
Thu Apr 15 17:34:56 2021 [642416][1][FATAL] SugarPHPMailer encountered an error: Invalid address:  (to): 
Thu Apr 15 17:34:56 2021 [642416][1][ERROR] Given parameter should contains index "copy_email_addresses"
Thu Apr 15 17:34:56 2021 [642416][1][ERROR] Email address copy error occured, bean was: Leads
Thu Apr 15 17:34:56 2021 [642416][1][ERROR] Unable to load related bean by id
Thu Apr 15 17:34:56 2021 [642416][1][FATAL] SugarPHPMailer encountered an error: Invalid address:  (to): 
Thu Apr 15 17:34:56 2021 [642416][1][ERROR] Given parameter should contains index "copy_email_addresses"
Thu Apr 15 17:34:56 2021 [642416][1][ERROR] Email address copy error occured, bean was: Leads
Thu Apr 15 17:34:56 2021 [642416][1][FATAL] SugarPHPMailer encountered an error: Invalid address:  (to): 
Thu Apr 15 17:34:56 2021 [642416][1][ERROR] convert: Conversion of 04/15/2021 14:34 from Y-m-d H:i:s to m/d/Y H:i failed
Thu Apr 15 17:34:56 2021 [642416][1][ERROR] convert: Conversion of 04/15/2021 14:34 from Y-m-d H:i:s to m/d/Y H:i failed
Thu Apr 15 17:34:56 2021 [642416][1][ERROR] fromUser: Conversion of  from user format m/d/Y H:i failed
Thu Apr 15 17:34:56 2021 [642416][1][ERROR] fromUser: Conversion of  from user format m/d/Y H:i failed
Thu Apr 15 17:34:56 2021 [642416][1][ERROR] Unable to load related bean by id
Thu Apr 15 17:34:56 2021 [642416][1][FATAL] SugarPHPMailer encountered an error: Invalid address:  (to): 
Thu Apr 15 17:34:56 2021 [642416][1][ERROR] Given parameter should contains index "copy_email_addresses"
Thu Apr 15 17:34:56 2021 [642416][1][ERROR] Email address copy error occured, bean was: Leads
Thu Apr 15 17:36:04 2021 [642420][1][FATAL] Exception handling in /var/www/html/suitecrm/include/MVC/Controller/SugarController.php:400
Thu Apr 15 17:36:04 2021 [642420][1][FATAL] Exception in Controller: Error retrieving record. This record may be deleted or you may not be authorized to view it.
Thu Apr 15 17:36:04 2021 [642420][1][FATAL] backtrace:
#0 /var/www/html/suitecrm/include/MVC/View/views/view.detail.php(102): sugar_die()
#1 /var/www/html/suitecrm/include/MVC/View/SugarView.php(226): ViewDetail->display()
#2 /var/www/html/suitecrm/include/MVC/Controller/SugarController.php(435): SugarView->process()
#3 /var/www/html/suitecrm/include/MVC/Controller/SugarController.php(375): SugarController->processView()
#4 /var/www/html/suitecrm/include/MVC/SugarApplication.php(113): SugarController->execute()
#5 /var/www/html/suitecrm/index.php(52): SugarApplication->execute()
#6 {main}