Hello,
I am having an issue where when I favorite a contact using the star icon next to their name, the name of that person appears twice in the favorites list. See pic: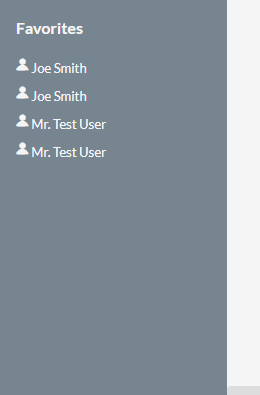 I have tried clearing my cache folder, Quick Repairing, messing with some php files of the Favorites module, and verifying no duplicate record exist in the database but the issue persists.
When I create a new user and favorite them, they only appear as one link. But if I unfavorite them and favorite again they appear as two. So it seems both old and new contacts are affected by this.
SuiteCRM Version used: 7.11.20
Browser name and version: Chrome version 93.0.4577.63 (Official Build)(64-bit)
Environment name and version: Microsoft SQL Server, PHP 7.3.26, been running SCRM for 8+ months
Operating System and version: Windows Server 2019 Standard build 17763