Translation Status (25 - Jan - 2016)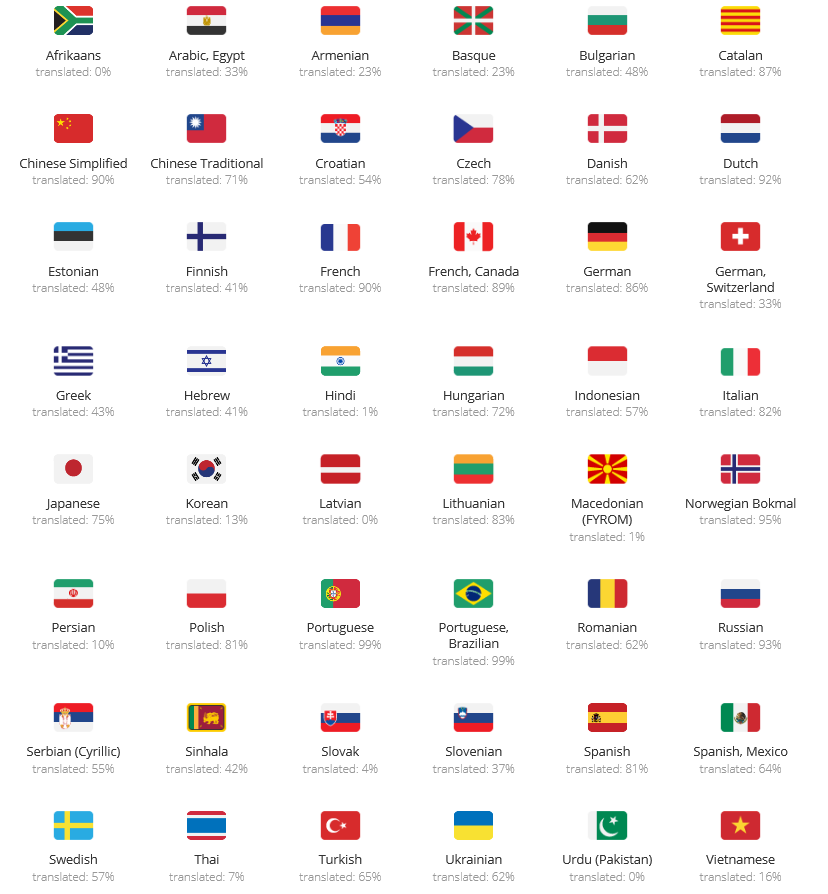 This is the top 15 languages on translation project for SuiteCRM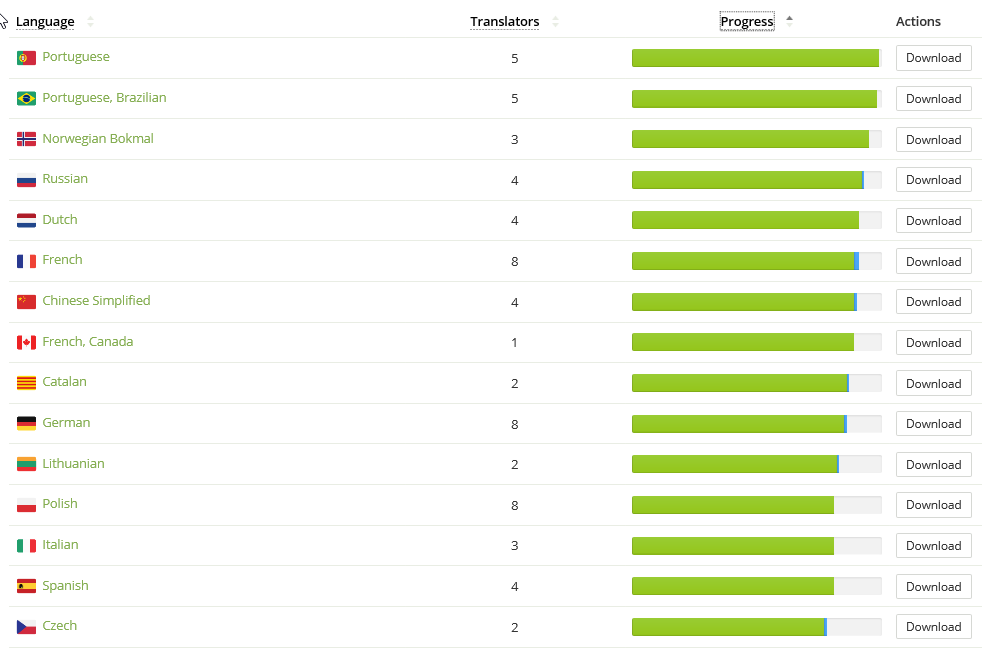 Note: Position #1 is 99% done and Position #15 is 78% done
How about your language?
Join in translate and download (did I said it's all free?)
https://crowdin.com/project/suitecrmtranslations
SuiteCRM is now being translated to 53 languages. Thanks to all the translators for this impressive work:
4 languages are fully translated (59 704 words)

7 languages are almost done (as in 99% done!)
[size=5]Did you know that you are the person required to finish your language translation?[/size]
Even if your language has lots of words left to be translated consider that many of them are repeated ones and Crowdin will auto fill from your translations, so you will have less work then the expected.
To find those words just select your language, then click "Translate All" button and then filter by "Untranslated first".
Note: sorry for the misspellings in this message but I don't speak english and used the Google translator.
On the other hand, even knowing SuiteCRM is translated by true native language users I bet that you can find and fix some errors in SuiteCRM translation. Please do it now, fixing one error will make the software greater.
Enter here: https://crowdin.com/project/suitecrmtranslations
[size=5]
Top translated languages:[/size]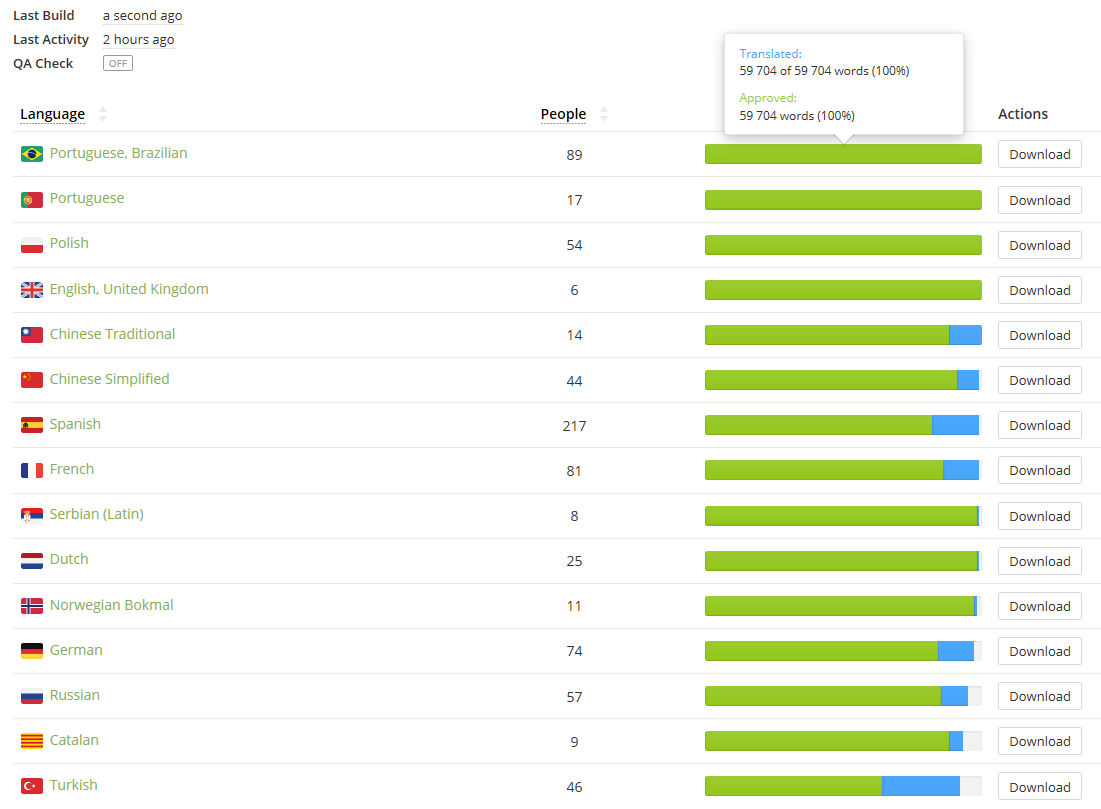 Portuguese, Brazilian
Portuguese
Polish
Chinese Traditional
Chinese Simplified
Spanish
French
Serbian (Latin)
Dutch
Norwegian Bokmal
German
Russian
Catalan
Turkish
The number of words in language files has dropped in more than 7600 words for the version 7.9.5.0.
This is the result of a massive PR https://github.com/salesagility/SuiteCRM/pull/4034
Thanks for all the involved in reporting and removing the strings from language files.
The Crowdin Project is now updated to include this change.
New stats:
Size: 52 151 words
Translatable: 51 949 words
Duplicates 10 432 words
Hidden 202 words
Previous stats:
Size: 59 983 words
Translatable: 59 615 words
Duplicates 12 145 words
Hidden 368 words
Note: duplicates are strings with same values that do not require direct translations as they are auto-filled from the "twin" value translation.
So a translator just need to translate some 47 000 words!
Better to work in teams on Crowdin!
Yeah, and all those words multiplied by the number of languages we have… that's really a lot of work saved.
Congratulations to you and Likhobory and Dillon Brown for all the hard work on this operation! And of course, to anyone else who might have helped.
9 of the SuiteCRM languages are now completely translated.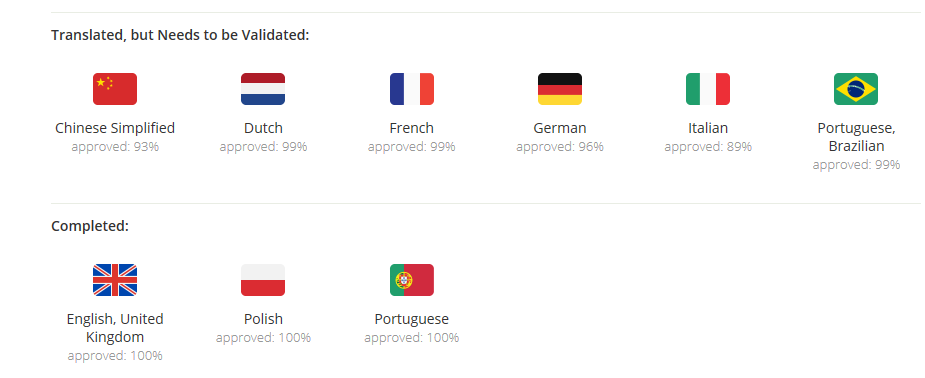 Have you translated some words lately? Can you give away 15 minutes?
Get involved and participate in the translation with some words.
Enter translation project, choose your language, hit "Translate all" button and filter by "Untranslated first"
https://crowdin.com/project/suitecrmtranslations
Note: Download is free, this is a community project for SuiteCRM.
I'm not a SalesAgility member, just a regular user like you!

If you don't use translations or don't have the time, you can help us to:
be involved by sharing a link to the translation project with your social media followers and invite others to translate.
11 languages are now 100% translated:
Spanish, Portuguese (Brazilian), Portuguese (Portugal), Polish, English (United Kingdom), Dutch, French, Russian, German, Italian, Chinese Simplified ,
Next ones to be competed? Maybe the Chinese Traditional, Thai and Catalan languages!
Special note to Vietnamese and Macedonia language: people are working hard on this two languages (even it they are far away from been completed)
You are the one missing here, have fun translating some words today!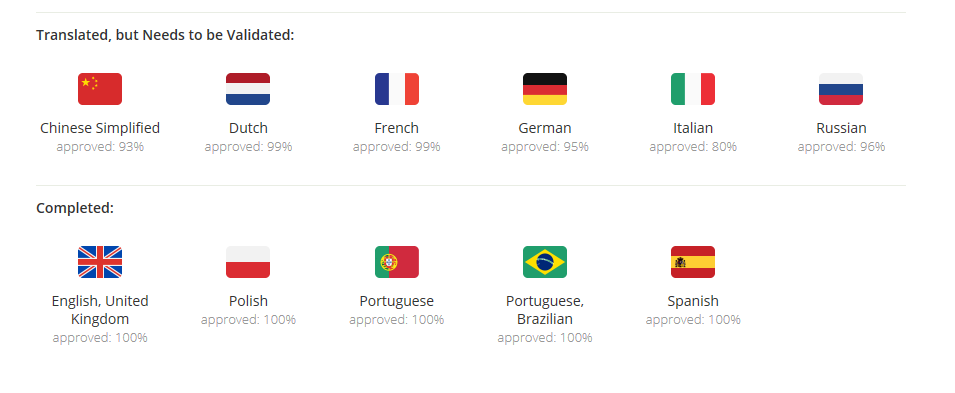 SuiteCRM is now translated into 57 languages
Translations on fire (most active translations):
Indonesia (97% done)
Thai (98% done)
Vietnamese (73% done)
Tagalog (just started but already counting 3 700 words done!)
There are also 2 new additions:
And do not forget the awesome job on all the other languages (13 languages are 98% done)
Please invite other to translate, share this link on your social networks:
https://crowdin.com/project/suitecrmtranslations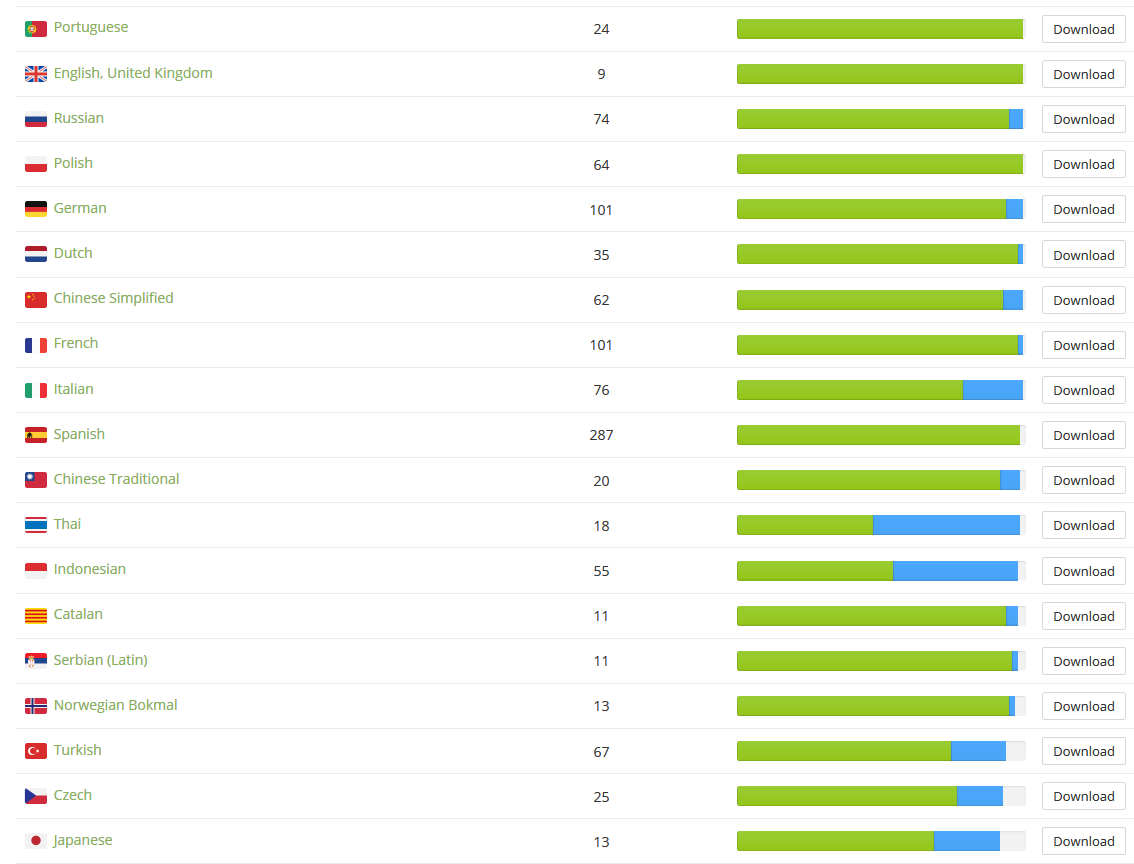 Update on the newest languages:
Yoruba (40 million natives or speakers Nigeria and Beninm) was just started with some 2,000 words done

Tagalog (70 million natives or speakers, Philippines) is under heavy work (40% or 22,000 words translated)

Indonesian its (199 million natives or speakers, Indonesia) almost finished (99% done, or 299 words missing!)
Thats a great work from SuiteCRM users
If you want more languages, get involved and invite others to translate too!