Hi:
I've done this twice now and the same behaviour each time. ( Rocky Linux 8.7 with NGINX 1.24 web server and PHP 8.XX). I know this LEMP stack on my VPS servers works perfectly for Wordpress 6.2 - so this is specific to SuiteCRM 8.xx).
I've tried two fresh VPS installs to try to get this to work properly, but can't get the NGINX server block to render the SuiteCRM 8.3 install page. Behaviours are repeatable, so there's something that SuiteCRM 8.3 requires that is not documented.
It should be straight forward, but I keep getting a "file not found" error when I go the the url for the server.
There's a lot of inaccurate information in the various forums on installing SuiteCRM 8.XX on NGINX web server.
I'm just tryig to get the installer to show in the browser before adding any more to the server block.
I get the following error in the logs:
FastCGI sent in stderr: "Primary script unknown" while reading response header from upstream, client "my public IP address". request: "GET/HTTP/1.1", upstream: "fastcgi://unix;/var/run/php-fpm/www.sock:", host: "my domain name".
Here's the server block info.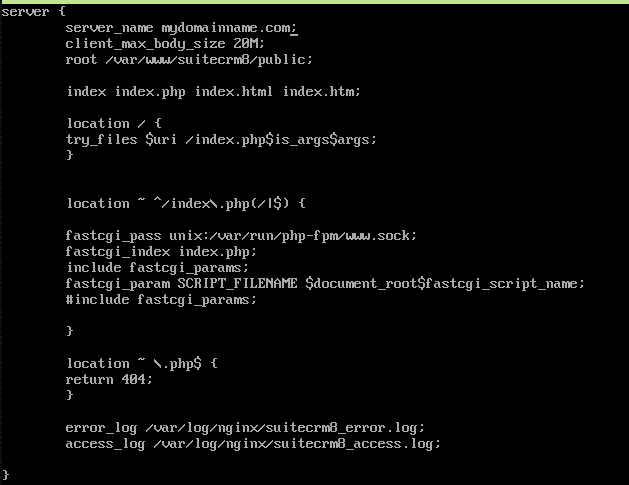 when entering http://mydomainname.com in the browser I'm just returned with "file not found". I set all the permissions on the folders and files as specified. The server is working perfecting on other test server blocks. Just this Suitecrm 8 the behavahiour is the same.