So I've been doing a bit of testing with the case creation emails. I've pretty much got AOP working properly and cases get created from emails properly. However, the auto reply template has problems.
First, there are TWO places you need to set this. One in the intbound email account: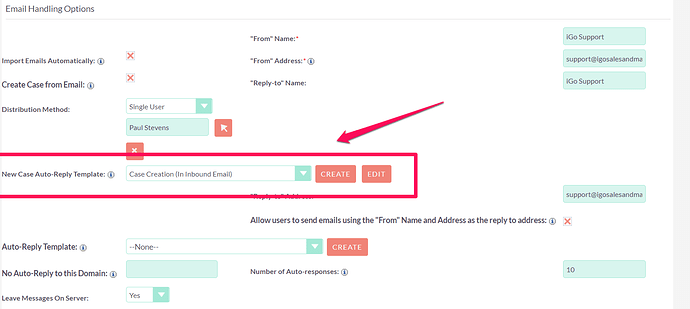 AND In AOP (I can't understand why you have to enter it in two places):
I've just done extensive testing on this and here's what I've found:
You have to the email template in BOTH places or it will not send the email at all.
The email sent from the inbound email selection does not populate the variables in the email template at all.
The email template selected in the AOP settings does populate the email variables properly.
BOTH emails are sent every time.
I have experimented with one of them being set to "none" and no emails are sent at all.
So, is it just me, are others experiencing this? Should I add a bug on Github? Does anyone have a solution?
As a work around what I did was create two email templates. One that has no variables and basically just says "thank you". I use that as the template in the inbound email settings. I use the regular case creation template in the AOP settings. The client still gets two emails, but it at least they look like they were meant to be that way.