I've installed a fresh version of SuiteCRM 7.2.2 on a shared hosting provider (so I don't have access to a few things). Using PHP 5.3. The install went fine, but when I logged on for the first time I was asked to set up an outgoing mail server. When I tested my settings, I got a dialog and noticed one of the buttons on it was labelled "undefined". See the attached image.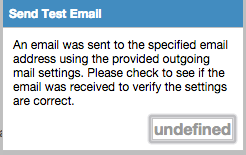 After a bit of searching I found that some people think it may be a permissions problem. To clarify, I did do the following from the root SuiteCRM folder before I installed:
chmod -R 755 .
chmod -R 775 cache custom modules themes data upload config_override.php

Being on a shared host I couldn't do that with 'sudo'.
I tried a quick repair, but that didn't seem to do the trick (Admin > Repair > Quick Repair).
For fun, I also tried "chmod -R 777 ." in the SuiteCRM root. This fixed the problem in some areas (e.g. when sending a test mail), but not in others (e.g. inserting line items on an invoice - the labels there are still all "undefined"). Afterwards I reverted back to the original permissions.
Any ideas to what a lad can try? Keeping in mind this is a shared hosting environment.