Hello, I'm asking something that is actually complicated, I just want to know if it is appliable to the system.
Here you can see the default dashboard: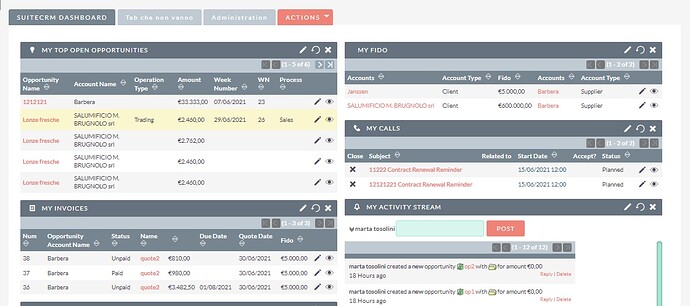 When you hover over on a row it changes the color (in a light orange). Do you think that it is possible to highlight more than one row in different tables? For example, I hover over on a row in Opportunities table with and opportunity ID, i want to highlight the rows in other tables (Quotes etc…) that have the same opportunity ID (related in the table) at the same time, so you can see the relationships in the tables better.
I found out that the function that is implied in this is called
function hiliteItem -
in \include\javascript\menu.js
But I'm getting some difficulties to understand actually how the row is selected from the database. If I could understand that, I could make the relations in the tables to highlight more rows.
I know it's complicated, so I wanted to know if it is appliable.
Otherwise, I'd think for another solution to make the relationships in tables in dashboard more evident.
Good afternoon!