Hi all, I'm attempting to install SuiteCRM 8 to try out all the cool new features but instead of the installer appearing in my browser I get "Forbidden You don't have permission to access this resource".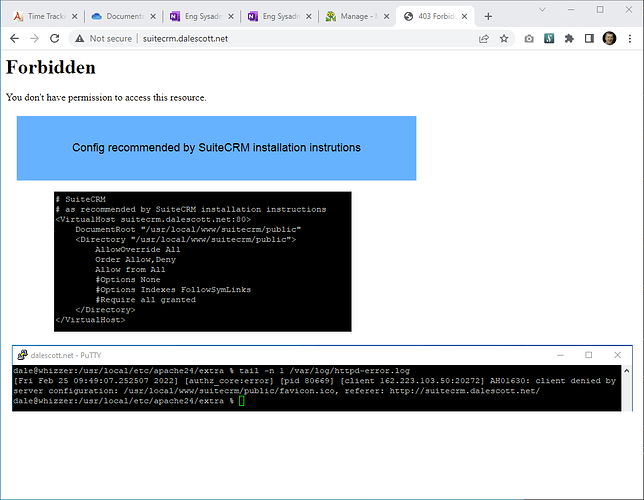 I am attempting to install SuiteCRM-8.0.3.zip on FreeBSD v13 with PHP 8.0.15, Apache 2.4.52 and MariaDb 10.5.13, and using the recommended vhost definition in the installation instructions.
Reveiwing the SuiteCRM v8 php requirements list, I have all modules installed except for "cli" and "common".
phpinfo reports my server php configure command includes '–disable-cli'. However "php --version" reports "PHP 8.0.15 (cli) (built: Jan 22 2022 01:15:46)", implying cli is present.
"common" appears to be a distribution-specific collection of commonly used modules, and available on at least on REL but not on FreeBSD. My installed modules are listed below. Can anyone say if I'm missing any which would result in the "Forbidden…" error connecting to SuiteCRM 8?
Thanks in advance,
Dale
% php -m
[PHP Modules]
bcmath
bz2
Core
ctype
curl
date
dom
exif
fileinfo
filter
gd
gettext
gmp
hash
iconv
imagick
intl
json
libxml
mbstring
mysqli
mysqlnd
openssl
pcre
PDO
pdo_mysql
posix
Reflection
session
SimpleXML
soap
SPL
standard
xml
xmlreader
xmlwriter
zip
zlib

[Zend Modules]

%