An annoying error came to light when working with Workflow.
Steps to repeat:
Create a Quote with a title for example test quote. All fields, except for the name, leave the default values. Add group1 to the Line Items panel and add a service line named some service1 as in the screenshot.





Create a Workflow test for quote.
As in the screenshot
It is important that the workflow changes more than one field in the same Quotes record
In this case, the Approval Issues and Payment Term fields are changed.




Click Save
We look at Line Items … there are two of them!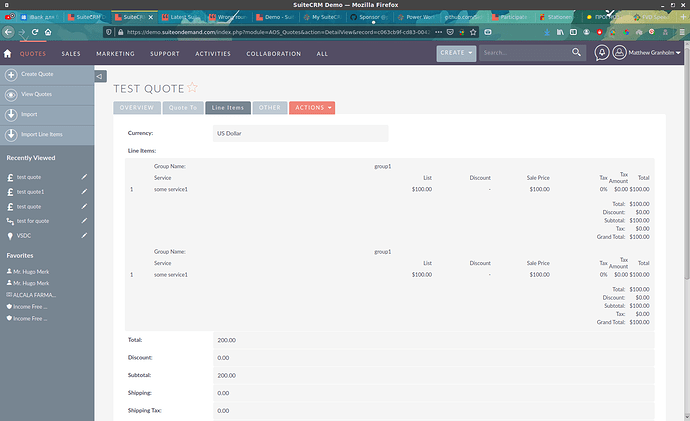 Moreover, Total has not changed
If WorkFlow changes three fields in the same qoutes record, we get two additional groups, and so on.
My version of SuiteCRM is 7.11.13 BUT this error is also on the online demo
WorkFlow https://demo.suiteondemand.com/index.php?module=AOW_WorkFlow&action=DetailView&record=5b637ae1-62dd-df55-d640-603ebbd8ca91
Test Quote https://demo.suiteondemand.com/index.php?module=AOS_Quotes&action=DetailView&record=a47e46ba-8f17-8d66-da28-6057f592f701
I believe that easy-to-use visual editing tools contribute to the successful promotion of SuiteCRM to the masses!
Best regards!